Rob Pincus – Nationwide
rob@icetraining.us
|
www.icetraining.us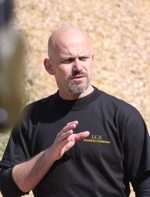 Bio:
Formerly the Director of Operations at the Valhalla Training Center, Rob has been a trainer and consultant in various combative fields for many years and is the developer of the Intuitive Defensive Shooting Program. His background in military, law enforcement, executive protection and recreational shooting gives him a broad experience base. Rob's specialty is progressive reality based training and fitting the fundamentals into the context of his diverse students' environments.
At the end of 2007, when Valhalla's ownership decided to make the venue more exclusive, Rob established I.C.E. Training Company.
His courses emphasize EFFICIENCY and what really works during critical incidents, not what looks good on the square range or sounds good in court or in a classroom. Rob's ideas on training & tactics have been shared all around the world through his role as a writer and Training Consultant with S.W.A.T. Magazine as well as lectures and courses throughout the United States and Europe.
Rob's Personal Defense Video Series, covering armed and unarmed defense, has shipped over 1 million copies.
There were no results found.