Michael Dasargo – San Diego, CA
(619) 917-9017
|
dasargo@msn.com
|
http://www.10xdefense.com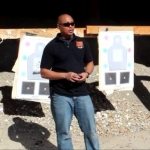 Bio:
Mike Dasargo is a Certified Protection Professional and is currently an Executive Protection Agent entrusted to protect Fortune 50 clients.  He has over 5 years of experience as an Emergency Medical Technician, and has volunteered to serve as a Tactical/Combat Medic for FEMA DMAT CA-4.
Mike is owner and founder of the San Diego Fighting Arts Academy and has 20+ years martial arts training and teaching experience.  He has utilized his collegiate level studies of Kineseology, Sports Psychology, Traumatic Stress, and Neuroscience to develop an in depth understanding of training methods, skill development, and human performance.
Why IDS:
Intuitive Defensive Shooting is the most concise and scientifically developed program designed for counter-ambush defensive shooting.
Most shooting programs are heavily focused on the mechanical and technical domain of training, which is similar to the practice of mastering and memorizing martial arts techniques.  Many martial artists have experienced the difficulty and often times failure to transfer the same level of performance to a dynamic and relatively unpredictable environment.  In fact, performance often degrades significantly below anticipated levels.   This is primarily because motor skills are slave to cognitive skills.  In martial arts, timing, angles, distance management and rhythm are examples of cognitive skills that facilitate the application of technique.  Without adequate cognitive abilities for a certain context, even the most refined black belt will fight clumsily.  Similarly, even the highest level of competition shooters degrade under heavy cognitive load.
The IDS program presents a unique training method that focuses primarily on developing cognitive abilities while accounting for the physiological effects of the startle response to sudden unexpected danger.  The IDS paradigm couples variability and unpredictably that amounts to a cognitive load that exercises the brain in a way that improves decision-making skills under duress.  The improvement in decision-making skills and overall cognitive abilities subsequently facilitate a correlated improvement in shooting speed and precision.
When you learn IDS, you are not just learning how to shoot.  You are learning how to skillfully respond to surprising, chaotic, and threatening events.
There were no results found.