Ken Crawford – Reno, NV
(775) 826-2626
|
ken@renoguns.com
|
http://www.renoguns.com/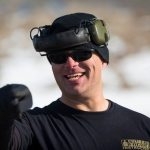 Bio:
Ken is originally from the Bay Area in California, but has lived in, Reno, Nevada, since 2006 and now calls Northern Nevada home.  He holds various NRA Pistol Instructor credentials along with being certified through the State of Nevada to teach Concealed Carry Permit courses and is also certified by the, Nevada Private Investigator's Licensing Board, to teach Armed Security Guard courses and certify qualifications for live fire.  Ken has also worked closely with, Alessandro Padovani, the founder of, Safer Faster Defense, and teaches workshops based upon the Safer Faster Knife concepts and principles.
Through continual hard work and dedication, Ken is considered to be a Senior Intuitive Defensive® Shooting Instructor and has become a contributing author for the, Personal Defense Network, and is an adjunct instructor for the I.C.E. Training Company, teaching the Defensive Firearms Coach Instructor Development course. 
Ken is the Range Manager and one of the Senior Instructors for, Reno Guns and Range.  He teaches firearms courses, edged and improvised weapons courses, empty hand combative courses, and integrated weapon fighting courses. His favorite course to teach is the, Youth Firearms Familiarization & Safety course.  Ken started developing the course in 2011 and it has become one of the most popular courses in his area and he now helps other instructors across the country to develop youth courses in their area. 
Reno Guns & Range is a 24,226-square-foot destination for safe indoor live fire, scenario-based training, firearm sales, service, and more. Reno Guns and Range is a company that advocates responsible firearm ownership through multi-level expert training.
Why CFS:
I remember leaving my first professional firearms training course in 1996, naively feeling that I was ready for anything. In fact ALL of the defensive courses that I had taken prior to Intuitive Defensive Shooting, whether armed or unarmed, taught that I was ALWAYS going to be in control of a given situation by somehow being aware. In reality, this is just not the case. Understanding how a predator selects its prey and then attacks it with a minimal risk of injury helped me to finally understand how an "ambush" can occur in everyday life, and also how to defend against it. The Intuitive Defensive Shooting program is the only program that I have found to be continually evolving, just as our potential attackers are.
Intuitive Defensive Shooting courses empower and encourage the student to challenge the instructor(s) with questions. This philosophy is extremely rare throughout the industry and is one of the main reasons I began my journey to become a Certified Intuitive Defensive Instructor. I then found out that only 50% of the firearms instructors that go through instructor development courses actually earn the title Intuitive Defensive Shooting Instructor. My students come to me looking for instruction that may save lives. They leave the courses I teach with a solid understanding of why it is that we do what we do. They also leave with the comfort of knowing that as things change in life, we will be able to change with them.
There is no choreographed set of movements that is going to prevail in every lethal encounter. I teach Intuitive Defensive Shooting because I truly believe that the skills that I teach may give my students the advantage when faced with a surprising, chaotic, and lethal threat. I believe that CFS curriculum may enable them to not just survive, but dominate their attacker(s) with devastating results, if they find themselves in the worst possible scenario…the AMBUSH.
There were no results found.