Jamie Onion – Cleveland, OH
440-862-2779
|
jamie@icetraining.us
|
icetraining.us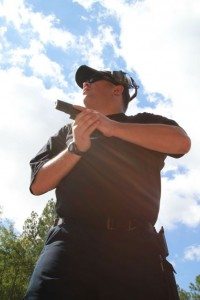 Bio:
Jamie is an active law enforcement officer in the State of Ohio where he also teaches at
several colleges in the Criminal Justice programs.   He has been a law enforcement instructor for over 8 years.   Jamie holds instructor level certifications for the state law enforcement academy, Handgun, Rifle/Carbine, Sub-machinegun, TASER, O.C/Pepper Spray and Baton.   Jamie is also a certified Intuitive Defensive® Shooting Instructor, Advanced Pistol Handling Instructor and Intuitive Defensive® Carbine Instructor.  His educational background consists of both a Bachelor of Science Degree and a Masters of Public administration.
In addition to Jamie's Instructor credentials he has attended several hundred hours of additional firearms and other training from some of the world's top instructors and continues to train on a regular basis.
Why CFS:
After attending the Intuitive Defensive end user course it just made sense to move on to take the Instructor Development Course and bring the information to my current students and fellow Law Enforcement officers.
I had been a law enforcement trainer for some time and fully recognized "something" just didn't make sense as I attended training after training. Something was missing. That something was the explanation behind the techniques. Often in this industry we teach too much of the "what" and "how" leaving out the most crucial component of "why."  At my first CFS course I received this missing component.
It made me realize if we train a concept instead of a skill in isolation, or a technique we can't quantify beyond "that's how we have done it for years or that's how the super ninja force does it ect." we can then trust in the concept and apply it to multiple situations in the context necessary to have a positive outcome.
My company Western Reserve Tactical was created in 2006 to bring a better quality of training to law enforcement and private citizens who carry firearms for self defense and the defense of others.  I am much better prepared as an instructor to do that with the information and ability offered through the CFS program and Instructor Development Course.   At Western Reserve Tactical we offer what we believe to be the best methods not "another tool for your toolbox." From our Standard Concealed Carry course to the world renowned Intuitive Defensive™ series of courses, we strive to offer the latest and most beneficial information to our students to best prepare them for their critical incident should one be encountered.
There is nothing better as an instructor than witnessing a student's  "ah ha" moment and assisting them  in obtaining the skills necessary to prevail in their critical incident.   With the CFS program I rest easy knowing those I teach are better prepared than many, and if confronted with a critical incident I will have given them the necessary skills to prevail if they have done their part in obtaining the necessary competency.
There were no results found.