Alessandro Padovani – Pismo Beach, CA
702-506-1890
|
Ale@saferfasterdefense.com
|
www.saferfasterdefense.com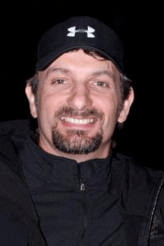 Bio:
I'm from Italy but I recently relocated to the central coast of California.  I have been
practicing Martial Arts since I was a kid.  This passion and an honest quest for a better way to prepare for self defense brought me to Blauer Tactical System and I became a Personal Defense Readiness Instructor in 2007. Shortly after, I moved back to Italy where I worked as a Defensive Tactics instructor for Delta Firearms Academy.  There I became a shooting trainer and helped run their firearms classes (Defensive Shooting/CQB/Exec. Pro.) until early 2010.  I was exposed to Rob's research  through B.T.S. and I soon began to realize the shortcomings of the traditional firearms training doctrine.  Forever on a quest to bring the most effective training to my students, I became a CFS instructor in April 2010.  I'm now sharing this knowledge through my company:  www.SaferFasterDefense.com.
Why CFS:
Some find comfort in tradition, and tradition gives us a common starting point.  But, if left alone, it leads to stagnation.  I find more value in thoughtful innovation because it leads to progress.  For example, athletes today don't train like they did 10 years ago, and they perform much better for it! So why not train in the most progressive, scientific and realistic way possible when my life could depend on it?
CFS is the most progressive defensive shooting training system out there; it is an important paradigm shift and a long overdue refinement of training methodologies and priorities.  By understanding how the mind-body reacts, and applying it to training, CFS gives us the best chance to prevail in a lethal force confrontation.
In short, "…by dealing with a dynamic critical incident in a more intuitive and efficient way, Intuitive Defensive Shooting aims to make you safer faster…" This is the essence of why I teach Intuitive Defensive Shooting.
There were no results found.