Mike Anderson – Lakeville, MN
612-759-9711
|
jackmikeanderson@gmail.com
Bio: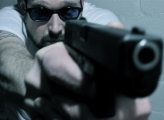 Teaching adults professionally since 1995, Michael Anderson focuses on installing the successful and sustainable skill sets designed to increase safety and survivability during a dynamic critical incident.  His students are empowered and encouraged.
I.C.E. Training Company – Intuitive Defensive Shooting Instructor, Defensive Firearms Coach, Fit Shot Coach, School Attacker Response Course Instructor.
National Rifle Association – Firearms Instructor in multiple disciplines including Pistol, Shotgun, Rifle.

American Heart Association – First Aid and CPR Instructor.

Martial Arts Nerd since 1989.
With a passion for continuing education in personal defense and extreme close-quarter combat, Anderson is conversant in defensive tactics for law enforcement and active diffusion strategies.
Why CFS:
Efficiency and consistency.  The foundational point of entry in Intuitive Defensive Shooting allows any diligent student to develop fundamental success.  My charge is to start people on the path that promotes personal responsibility, situational awareness, and building a lifestyle of increased vigilance and security.  From someone's grandmother to a person with a disability to a novice shooter to an experienced professional, CFS offers lessons in efficiency and consistency that provide terrific success right out of the gate, and are applicable in many other aspects of life.  It works beautifully with what the body does naturally.  You can be safer, in the parking lot on the way out of an introductory class, than you've ever been in your life.  You can be good enough to defend yourself immediately.
There were no results found.