Mandy Autrey – Sacramento, CA
916-607-8453
|
gunlady1911@yahoo.com
|
http://gunlady.net/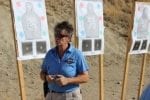 Bio:
Mandy Autrey is a recent retired Law Enforcement Agent with over 28 and half years of experience.  She is recognized as a self-defense and firearms expert with over 20 years experience as a firearms, baton, and emergency response instructor within in her department.  She is also the author of numerous training materials for her agency.
Mandy is the owner of GunLady Defensive Firearms and 360 Street Sense 4 Women Self-Defense Training.
Mandy currently conducts courses for Concealed Carry Weapons permits for several counties and cities within Northern California and Utah Multi-State CCW.  She conducts private handgun, enhanced CCW courses and corporation team building events.
Mandy is a certified instructor for the Department of Justice, POST Firearms Instructor, an NRA Firearms and Personal Protection instructor, POST Firearms, Arrest and Control Proctor Instructor, Taser Instructor for Civilians, and counter ambush trained.  She is a defensive firearms coach and a certified Intuitive Defensive® shooting instructor.
In addition to numerous credentials, she holds a Bachelor's Degree in Human Services and a Master's Degree in Adult Education.
Why CFS:
The answer is simple: because it works.
I have thought about why I teach CFS and it really comes down to the fact that it pushes the student and instructor past their comfort level. However, it gives the student confidence in his or her own gun handling skills.
As adult learners, we want to buy into what we are being taught, and as an instructor we should provide that learning to our students. When you learn the concepts and principles of a process you can apply the information more efficiently.
When researching my approach to firearms training for the average citizen, I wanted to find a program I would be proud to put my name behind.  When I found Intuitive Defensive®, I was confident I had come across the best system to serve my students.
I want to provide my students with the most up-to-date information and training that is available in the shooting industry.  There is no other training program that provides a complete learning experience like Intuitive Defensive® Shooting.
CFS is about learning how to not only shoot a gun, but how to work with the body so that learning to shoot is an easy and natural part of the process.
The CFS program is the leading training program that utilizes the latest evolutions in science and training methods. When it comes to counter-ambush defensive shooting, CFS provides a developed, concise and scientific program.
The bottom line is that CFS works, and it is training that I rely on for my own worst-case scenario.
There were no results found.