Evan Carson – Manassas, VA
571-535-4437
|
evan@innovativedefensivesolutions.com
|
http://www.innovativedefensivesolutions.com/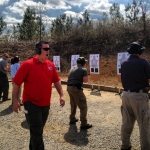 Bio:
Evan Carson is the President of Innovative Defensive Solutions, llc (IDS) and IDS Security Training Academy, LLC, a full service personal defense, safety and security training company. At IDS we specialize in providing our clients with Concealed Carry Courses, Defensive Firearm Training, and Instructor Development. We also provide OC spray, knife, carbine, combatives and armed professional training opportunities
Evan has been a defensive firearm practitioner, gun enthusiast, student and teacher for more than 10 years. He worked at the NRA HQ for 9 years as an instructor and range safety officer where he applied his teaching and communication skills to tens of thousands of people at one of the nation's top ranges. During this time he competed in USPSA/IDPA/GSSF and continued on his path as a professional student all while continuing to grow IDS. In 2013 he moved on from the NRA Range to focus on IDS and his personal journey in defensive firearm instruction.
Evan and IDS have been featured in Combat Handgun Magazine, Complete Book of Auto Pistols, Modern DC Business Magazine as well as the TV show Breakthroughs with Martin Sheen. Evan has also been a part of the hit TV shot Top Shot and Triggers. Evan is a training consultant and has worked as an expert witness on a few gun related cases. Evan is an adjunct instructor for I.C.E. Training as well.
IDS prides itself on customer feedback, please visit our Google + and Yelp review pages where you can view our 340+ 5 star reviews.
Evan is a Life Member of the NRA and is also a BSA Eagle Scout and carries One Eagle Palm.
Please visit the Innovative Defensive Solutions website (www.InnovativeDefensiveSolutions.com) to learn more about our training opportunities.
Evan currently holds certifications in the following disciplines in addition to being an Certified and Active Intuitive Defensive® Shooting Instructor:
Active Intuitive Defensive Shooting Instructor
Certified FitShot Coach
Defensive Firearm Coach
DCJS Private Investigator #99-257395
Utah BCI Concealed Firearm Instructor #I102953
Sabre Red CSAP OC (Pepper Spray) Instructor
National Range Officer Institute Level One RSO
Glock Armorer
Charter Member of the Association of Defensive Shooting Instructors (ADSI)
Associate Member of the International Association of Law Enforcement Firearm Instructors (IALEFI)
Past NRA Certifications
NRA Appointed Training Counselor (Instructor Trainer)
NRA Certified Pistol and Rifle Instructor
NRA Personal Protection Inside the Home Instructor
NRA Chief Range Safety Officer
NRA Home Firearm Safety Instructor
Refuse to be a Victim Instructor and Regional Training Counselor
Why CFS:
I teach Intuitive Defensive Shooting because I want to bring the most evolved defensive firearm training to our customers. Through many years of training, studying and reading I believe that Intuitive Defensive Shooting delivers that to our clients.
Many schools that I have been to, provide answers, like: 'it's just another tool for your toolbox' or 'try it and see if it works' or 'this is what the SF units are doing overseas'. These answers always perplexed me. I didn't want another tool for my tool box, and I also didn't want four different ways to complete a task that I knew could be completed consistently and efficiently. I wanted to know the best and most efficient way to respond efficiently in counter ambush scenario; explained with scientific, logical and reasonable explanations backed by empirical evidence.
Immediately when I took my first CFS end user course @ Range Master in TN I realized where my weak points and holes were in my individual training, not only that I also realized where my own weak points were as an instructor. I instantly started incorporating changes in my own training as well as adjusting my own methodologies concepts and principles as an instructor. CFS is backed by solid research, including physics, physiology, neurology, and relevant empirical evidence within the context of civilian-involved shooting incidents. Also, a big part of the program is that fact that the instructor development course work is not a mill, the path is challenging and has a goal of providing the best and most evolved defensive firearm training rather than just certifying people.
As a practitioner and as an instructor you cannot overlook the information within CFS and maintain a level of integrity. I have and will always feel that the students/customers/raving fans that come to IDS for training deserve the best and most evolved information, and not trends or training that lacks the context the students came to us to train for.
There were no results found.