Dwayne Beccue – Shumway, Il
dbeccue1@icloud.com
|
vanguardpersonaldefense.com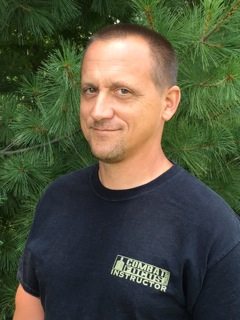 I am the owner of Vanguard Personal Defense, where I teach students modern self defense, both armed and unarmed. My interest in self defense and martial arts began when I was 15 years old and started training in Karate and self defense, and earning my Black Belt in 1995. During my early training days I was introduced to Bruce Lee's philosophies on training in the martial arts for self defense and was drawn to his thoughts on using what "works" and rejecting what does not work.  That put me on the path to looking for and developing training that would be useful and "worked" in real situations. While always looking to continue my own training, that eventually lead me to traveling to Virginia. While I was there I met Rob Pincus and had a discussion with him about Combat Focus Shooting and its concepts and principles. I was immediately hooked. What Rob was telling me about his program made perfect sense and I knew I had to teach what he was talking about.  Soon after that in 2012, I attended a course taught by Rob and became certified to teach I.C.E. Training's Defensive firearms coach program. In 2013, I became a certified NRA Basic Pistol instructor and was also certified with the Illinois State Police as an Illinois Concealed carry Instructor.  In 2015, I attended a Combat Focus Shooting Instructor development course and became a certified instructor in the program.
Why CFS:
I have always been the person seeking what "works" in personal defense.  While teaching unarmed self defense, I kept getting the question from my students, "do you teach firearms?"
At the time, I did not teach any firearms training, and quickly came to the conclusion that to be a complete self defense instructor, I needed to provide realistic firearms training that worked.
I began researching different firearms training programs, but none impressed me.  Until one day I was watching a show on television called The Best Defense and that is where I first learned of CFS. Shorty after that, I met Rob Pincus and was very impressed with his realistic approach to firearms training.  The concepts and principles found within the CFS program are hands down the most realistic and pragmatic that you will find. The program uses logic, reason, science and empirical evidence to justify its training process.  Some of the best reasons for "why CFS" is that the program integrates the bodies natural reactions that are likely to occur during a dynamic critical incident into the training and should have a huge affect on our training.  In short, CFS works well with what the body does naturally during a dynamic critical incident. 
CFS is the shooting program that I will teach my loved ones and students to defend them selves with a firearm.
There were no results found.