Cristian Jimenez – Mexico City, Mexico
cjimenez@luduspmc.com
|
www.luduspmc.com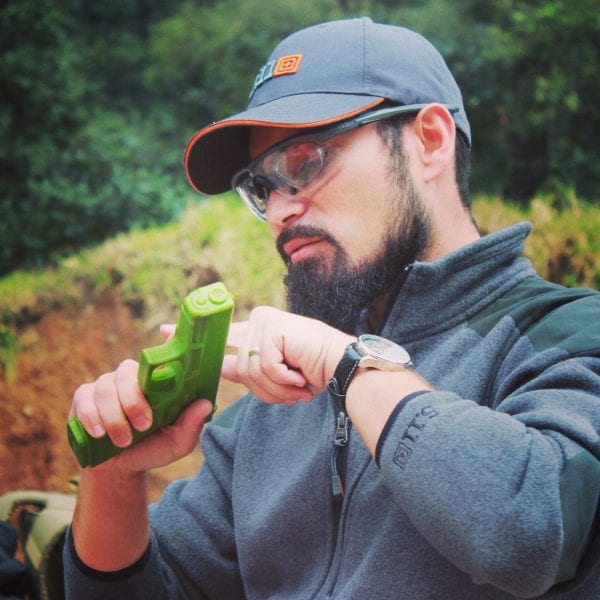 Bio:
Cristian is the founder and owner of Ludus PMC, a firearms training company based in Mexico City, Mexico, specialized in providing weapons training for personal self defense and law enforcement.
Cristian started his journey as a shooter 20+ years ago and started to teach in 2009 as an Assistant Instructor in the Federal Law Enforcement West Academy, based in Morelia, Michoacán. In 2011 he went to work as a full instructor for the Federal Law Enforcement Center Academy, based in Tlalnepantla, Estado de México, teaching basic firearms handling, defensive firearms tactics and techniques, legal self defense and proportional use of force. While teaching there, he wrote and compiled the Police Tactics and Techniques Manual that was used in Federal Law Enforcement from 2012 until 2015.
In December 2012, he left Federal Law Enforcement Instruction to create Ludus PMC, a private company dedicated to train civilians, law enforcement and military personnel in the new ways of the gun and self defense. Since then, Cristian has secured training contracts with mayor security companies and several Law Enforcement Agencies in Mexico, Argentina, Peru and Colombia; in January 2015 he was asked to train military personnel assigned to the Estado Mayor Presidencial (Mexico's Presidential security service) and currently is the only and first non-military firearms instructor working with the Mexican Army Special Operations Command in the Special Forces Training Center. In addition, Cristian is a sponsored shooter and trainer by 5.11 Tactical and Aguila Ammunition.
Why CFS:
I was introduced to CFS by a friend and fellow instructor as a way of including physiological responses in the firearms training I was providing to Law Enforcement Personnel back in 2012. Since then I've been studying and adapting the CFS knowledge and practices to my own courses. This resulted in an easiest way to teach with a more real, scientific and logic approach to the armed self defense training.
There were no results found.